Those with English copies of either game can get the Pokémon next month.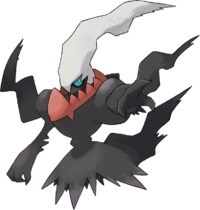 A Wi-Fi event distributing the legendary Dark Pokémon Darkrai to English copies of Pokémon Black and White has been announced.
Although not many other details have been revealed, it has been announced that the event will start on May 9 as a tie-in with the release of the Pokémon Trading Card Game expansion "Dark Explorers" on the same day.
The official website also says that "Darkrai comes equipped with a set of powerful attacks and a nightmarish Ability," though any potential moves or abilities exclusive to this event are currently unknown.