Another Rune Factory game is on the way.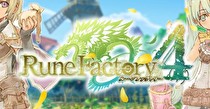 Rune Factory 4 is releasing on the Nintendo 3DS in Japan on July 19, according to the recent Nintendo Direct presentation.
Rune Factory 4 was previously revealed at the last Nintendo Direct event. Today the release date for the game was finally revealed. Nintendo also revealed that in this iteration of the Rune Factory series, players will be able to sell items to people around the town.
Previous Rune Factory games have made the leap over to North America, so it can be expected that a North American version of the game will come at some point.