The new 3DS game even has co-op play.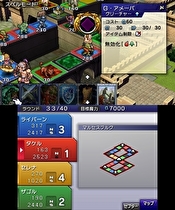 Culdcept for the Nintendo 3DS is releasing on June 28 in Japan, according to Nintendo at the recent Nintendo Direct event.
Culdcept was previously shown off at the last Nintendo Direct event. Developed by Omiya Soft, Culdcept will feature local single-card download play. In this mode of the game, the two players will cooperatively work against a CPU.
Nintendo has started a Twitter account just for Culdcept. You can follow @3DS_Culdcept now if you have a Twitter account.