He also calls the original Kid Icarus arrogant.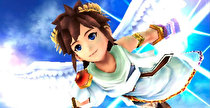 Kid Icarus: Uprising Director Masahiro Sakurai has heard the complaints about the controls, but he offers a Smash Bros. counterpoint in an interview with MSNBC.
"People were also strongly biased against the original Smash Bros. when it first came out, because of its original controls and rules, but it received strong support from customers who understood the gameplay," Sakurai said on the controversial ground controls. He went on to add that "Because Uprising's method for aiming the camera is original, it takes some time to get used to, but it enables users to aim the camera more quickly and accurately than was ever possible on other gaming devices."
Sakurai also commented on the game's well-received sections, such as the humorous and absurd story, which he wrote entirely himself. The English version was localized by comedian Mike Drucker and Nintendo's famed Treehouse staff.
"I feel like in recent games, the plot moves forward with too much angst and pain. I think it's nice to have something bright for a change," the Kirby and Smash Bros. creator said. "In the original Kid Icarus, it didn't really seem like Pit was all that serious about his adventure. [It] was more on the humorous side, and even seemed kind of arrogant."
The arrogance does shine through in Kid Icarus: Uprising, through its often-lamented controls and the personality of Pit. It also pops up in Sakurai, as he laments the lack of originality and inspired design in the gaming industry at large.
"If you look at first-person shooters, they almost all have the same controls and don't require any thinking. And you can easily set the difficulty without risks," he told MSNBC. "I think the era when each game required people to feel things out more was more stimulating and interesting, and the memory of that era served as the foundation for this game."