Players can get these cards soon after the release date of Black and White 2.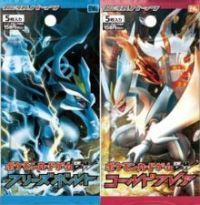 New Japanese trading card sets based on Pokémon Black and White 2 were unveiled recently, titled Freeze Shock and Ice Burn.
The reveal was made earlier this week by Japanese retailer Project Core, but since then, a sellsheet has appeared online containing the first booster pack images. The sets are based on Black Kyurem and White Kyurem, and release on July 13, almost one month after the June 23 Pokémon Black and White 2 release date in Japan.