Shin'en's upcoming eShop title is scheduled for a Q2 release.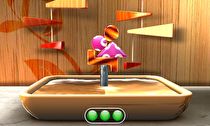 Shin'en has publicly announced their upcoming 3DS eShop title, Art of Balance TOUCH! It was originally teased during February's Nintendo Direct conference; however, this marks Shin'en's first official recognition of the game.
Art of Balance TOUCH! is the 3DS follow-up of Shin'en's 2010 WiiWare puzzle game, Art of Balance. In the game, you use the stylus to complete 200 physic-based stacking puzzles. Additionally, Shin'en has added a new endurance mode in which you strive for a high score.
The game is currently scheduled for release in Q2 of 2012.