Calm down. It's not nearly as exciting as you think.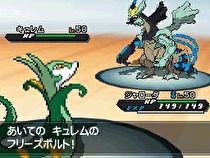 New information has been revealed on the latest Pokémon Smash episode regarding the upcoming release of Pokémon Black and White 2.
During the television program, series director Junichi Masuda made an appearance to show off the first part of the game. Although not much new information has been revealed, it was shown that, like Pokémon Black and White, Tepig, Snivy, and Oshawott will be the starters. He also showed that routes are more detailed (Azurill and Lillipup are seen together within an early route) and the Pokemon have animations not present in the original. Finally, the playthrough showed that the starting city, Hiougi City, is significantly larger than previous starting areas.
Pokémon Black and White 2 releases in Japan on June 23.