Soar through holes and dress dolls with this week's Nintendo downloads.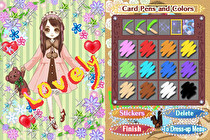 This week the Wii takes a break, with the 3DS and DSi being the only Nintendo systems to receive downloadable titles in the form of a 3DS eShop exclusive and a DSiWare title.
First up is this week's eShop exclusive, Ketzal's Corridors. Ketzal's Corridors is the Mesoamerican themed follow-up to Nintendo's 2010 WiiWare puzzle game, ThruSpace. In it, you maneuver different shapes that resemble Tetris pieces through walls with block-shaped holes. To see Neal's opinion of the game, check out his review here. Ketzal's Corridors can be downloaded from the eShop for $6.99
The second downloadable title this week is the DSiWare title, Anne's Doll Studio: Tokyo Collection. Tokyo Collection is the sequel to a previously released DSiWare game, Anne's Doll Studio: Gothic Collection. Both games allow you to play dress-up with several different dolls, accessories, and outfits. Anne's Doll Studio: Tokyo Collection costs $4.99 on the eShop and 500 points in the Nintendo DSi Shop.