The last of the Skylanders are finally making their debut.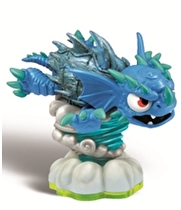 The last three Skylander characters have finally made their way to store shelves.
Warnado is a turtle-like air element character and can summon tornadoes and execute spin attacks to keep away his foes. Camo is a life element Skylander that uses firecracker vines and sun burst attacks. Lastly is Wham-Shell, a water element Skylander who used to be the ruler of a kingdom in the ocean. Wham-Shell has a mace that he uses to fight off baddies.
These last three Skylanders brought the total number of collectible characters to 32. All of the characters will be compatible with Skylanders Giants when it releases later this year.