Only a few more weeks to wait.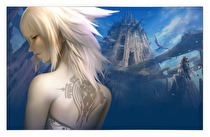 Pandora's Tower, the highly anticipated Wii title and the last of the three Operation Rainfall games, is set to release in Australia on April 12 this year.
The game puts you in the role of a soldier named Aeron who must journey to the top of 13 towers to fight and kill large monsters and harvest their "master flesh". By feeding his dear friend Elena, who was cursed to gradually transform into a demonic beast, the flesh he can reverse the effects and save her.
Players will have to carefully manage how long they wait before returning to Elena to feed her, as delaying too long will permanently seal her transformation. Along the way items can be presented to Elena as gifts or used to help you on your quest. With multiple endings, new playthrough features, and a soundtrack that includes famous classical music from around the world, this is a game that promises to tower over the competition next month.