Still holding out on getting this game? A demo is on the way.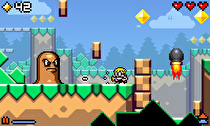 A demo of Mutant Mudds will be heading to the eShop in a few weeks, according to Jools Watsham through GoNintendo.
The demo will feature four of the main stages in the game (1-1, 2-1, 3-1, and 4-1) as well as one of the secret stages (secret 1-1). The demo is currently being looked at by Nintendo and is expected to be released onto the eShop within a few weeks.

If you were ever hesitant about buying the game, this demo will surely help you make up your mind. You can read our review of the full version of the game here.