Is this new trademark possibly the name of a new game?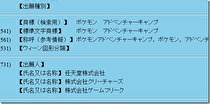 Nintendo, Game Freak, and Creatures Inc. filed for the trademark Pokémon Adventure Camp.
It does not appear that the trademark relates to any of the upcoming Pokémon titles we know of (Pokemon Black and White 2, Pokemon + Nobunaga's Ambition). So currently we can only speculate that this may be the title of an upcoming game.
If Pokémon Adventure Camp is a game, do you have any thoughts on what it could be?