Is a new trend in the making for packaged 3DS software?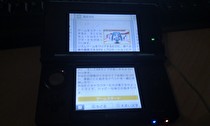 Hatsune Miku and the Future Stars Project mirai has a digital manual built into the cartridge, similiar to Nintendo's recent packaged software. This is what we discovered when we opened our version of the game.
Sega's music rhythm game featuring the Vocaloid singer is the first third party release to not feature a physical manual. The company's previous releases like Rhythm Thief R and Crush 3D did not go this route, which makes the move a tad weird. The box does feature a small one page folder describing the gameplay in rather short and simple detail, but doesn't talk about the features of the game.
It is unsure at this time if other companies will follow suit or have any freedom to do this, but we will keep you posted on any developments.