Go out and grab three new Skylanders now.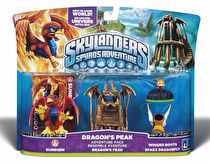 Three new Skylander characters were made available in stores today, as part of the Dragon's Peak Adventure Pack.
First to join the Skylanders ranks is Lightning Rod. Joining the air elemental Skylanders, Lightning Rod makes use of lightning bolts to take out enemies. Accompanying the fire element Skylanders is Sunburn. This part phoenix, part dragon creature breathes fire and has the ability to teleport. Lastly is Zook, who joins the life characters. Zook has the ability to launch thorns and protect himself using foliage.
The Dragon's Peak Adventure Pack adds another level to Skylanders: Spyro's Adventure, as well as other various upgrades.

If you want to know about other Skylander characters, be sure to check out our Skylanders Character Guide.