All 3DS owners in Japan will soon have a chance to try Samus Aran's first adventure.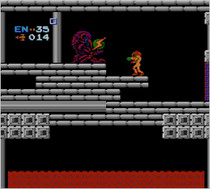 The Famicom Disk System version of Metroid will be available on the eShop in Japan on February 29 for 500 yen.
Metroid was originally released in 1986 in Japan on the Famicom Disk System and then later released in Europe and North America in 1987 on the Nintendo Entertainment System.The title has been re-released on other Nintendo hardware including the Game Boy Advance, Wii Virtual Console, and the Nintendo 3DS as a part of the 3DS Ambassador Program last summer.
Metroid is the 50th Virtual Console game for the 3DS in Japan.