You will be able to get the game one week sooner.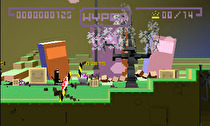 Bit.Trip Saga is coming to the UK on March 16, one week earlier than expected, according to publisher Rising Star Games.
UK gamers were originally looking forward to playing the 3D compilation of WiiWare titles on March 23. However, due to unknown reasons the game's release has been moved to March 16.
The US version of Bit.Trip Saga was released on September 13, 2011. You can read our review of the game here.