Unlike Nintendo's famed handheld game, this app crashes immediately upon loading.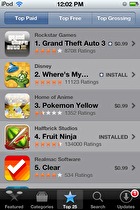 An unofficial, and completely unplayable, version of Pokémon Yellow has been climbing the charts on the Apple App Store.
The game, which sells for $0.99, is currently sitting at the #2 spot on the Top Paid games chart. The game reportedly crashes upon launching, and shows almost 1,500 reviews with an average of 1.5 stars out of 5 as of the time of this article. The developer, Home of Anime, has a history of publishing similar scams.
While it's hard to tell what the game is even meant to be, whether an emulated version of the original Pokémon Yellow or just a trap for unassuming iPhone owners, Nintendo has not made a point of pulling Pokémon related apps in the past. A quick search for Pokémon on the App Store brings about multiple apps, some free and some paid.
The official page for the app boasts features such as "Free Lifetime Updates," "Full high resolution Retina Display graphics" and "Intuitive and clear interface." The page also notes that "All trademarks and copyrights are owned by their respective owners."