The sales figures in Japan begin to show some depth.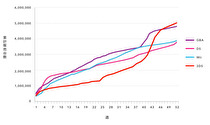 Nintendo 3DS system sales in Japan have reached the five million mark, according to Media Create, as of February 19, 2012. The system launched in Japan on February 26, 2011.
Previous successful Nintendo handheld systems have taken longer to reach this milestone; for instance, the Game Boy Advance reached five million systems sold in 58 weeks; the Nintendo DS in 56 weeks. The 3DS has reached the feat in 52 weeks, making it the gaming system to reach this milestone the fastest in Japanese history.