It appears that western 3DS owners can get their hands on the title starting later this year.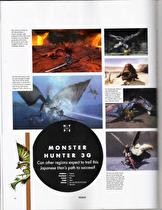 Monster Hunter 3G is being localized for both Europe and the US, as reported by EDGE.
The title is releasing in Europe during the third quarter of this year, and the United States will be recieving a localization at a currently unannounced date. The announcement was made in an article featuring the title, which was originally released in Japan in December of last year.
Monster Hunter 3G is a 3DS expansion of the Wii title Monster Hunter 3 (Tri), which includes expanded gameplay as well as 3DS exclusive features.