Back stories galore!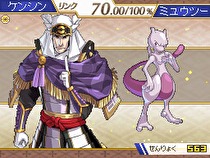 Extra episodes for Pokémon + Nobunaga's Ambition will be released through Nintendo Wi-Fi Connection. The game will be released in Japan March 17, as will the first episode, which will reveal how Chosokabe Motochika and Mori Motonari, two of the main characters, became friends.
An episode about the Wandering Kabuki Kenji, a character who players will encounter halfway through the game, will be released March 23. There will be an additional extra scene after players complete the game and view the first ending, which will be available April 13.
Nintendo also explained the military commanders' relationships to their Pokémon counterparts. Commanders can be paired with different Pokémon, but there is an optimal choice for each character. Players can find the "best link" by checking the "link percentage" between the character and their Pokémon. A 100% match is the best players can get.