Pokémon White: Victini and Zekrom gets a limited screening.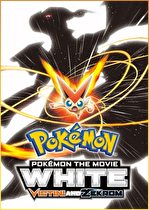 The fourteenth movie in the Pokémon anime series is getting a limited cinema screening in Australia and New Zealand.
Pokémon: The Movie - White: Victini and Zekrom, is being shown at select Hoyts cinemas across the two countries.
This marks the first time that an English-translated Pokémon film has been shown in Australian cinemas in more than a decade. The screenings are limited to Saturday the 18th and Sunday the 19th of February, so those interested in the event are encouraged to pre-book tickets.
The Australian DVD release of the movie is scheduled for March 7, and will be accompanied by the simultaneous release of its counterpart - Pokémon: The Movie - Black: Victini and Reshiram, which features the same plot but different Pokémon characters.
Tickets for the movie screenings can be pre-booked here.