Save states are now available on this 3DS Virtual Console classic.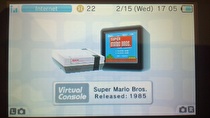 Update: In North America, Nintendo will make Super Mario Bros. available for purchase to non-Ambassadors on the 3DS Virtual Console later today. The game will cost $4.99.
An update has been released for Super Mario Bros. on the Nintendo 3DS eShop in North America and Europe. The update allows the use of a single save state, a feature already available on Game Boy games on the 3DS Virtual Console service. You can also now use the X button as the B button.
The game now includes a full instruction manual. Another minor feature of the update is that the icon on the 3DS home screen now shows an icon of an NES and CRT television rather than just a rectangle with the title screen. It also now includes a custom coin sound and a listing of the game's original release date.
As with other updates on the 3DS at this time, you must go to the Settings menu in the eShop and then navigate to the game in your downloads menu. Although there is an Updates list, the game does not show as an available update in that list.