Europeans get to play the third Operation Rainfall title one week after Americans get the first.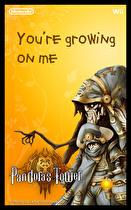 Pandora's Tower will come out in Europe April 13.
This action RPG has players taking on the role of Aeron, a soldier, as he battles through monsters in a series of towers on a quest to break the curse on his friend Elena. The game features multiple possible endings and a New Game+ feature that promises to offer a lot of replay value, and a complex and unique relationship system to offer different ways to approach the game.
Nintendo sent out some twisted game-themed Valentine's Day cards, which you can find in the gallery below.