Burgers, mini-games, and a Game Boy title head to Nintendo's downloadable services this week.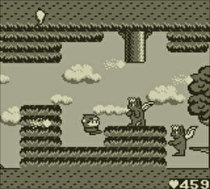 Each downloadable service received one game this week, while the Wii Virtual Console was again left out of the loop.
First, the 3DS Virtual Console received Jaleco's Maru's Mission. Take control of the ninja Maru as you travel the globe in an attempt to rescue Maru's girlfriend, Cori. This side-scrolling action game, developed by Tose, is available for $2.99.
DSiWare got 40-in-1 Explosive Megamix this week. This mini-game collection is packed with games of many different genres. Enjoy Sudoku, play a cooking game, and more for $7.99 or 800 Nintendo DSi Points.
Lastly, WiiWare received an update of an old classic in the form of BurgerTime World Tour. The game features more than 20 levels of arcade style action and retails for 1,000 Wii points ($10).