Gamers in Japan can get another dose of Kirby next week.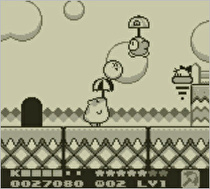 Hoshi no Kirby 2, otherwise known as Kirby's Dream Land 2, will arrive on February 15 on the Nintendo 3DS Virtual Console in Japan and will retail for 400 yen. Originally released in 1995 and developed by HAL Laboratory for the Game Boy, Kirby's Dream Land 2 is a follow up to Kirby's Dream Land. On top of his jumping, flying and inhaling, Kirby has three new animal allies at his disposal to help him throughout his adventure: Rick the Hamster, Coo the Owl, and Kine the Ocean Sunfish.
Currently, there are 47 Virtual Console (Game Boy, Game Boy Color, and Famicom) titles available on the 3DS eShop in Japan. There is no word when or if Kirby's Dream Land 2 will be released in other territories.