A brand new demo, a double Virtual Console update and burgers. That are this week's Euro downloads in a nutshell!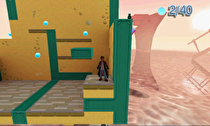 European gamers can look forward to six new downloads, ranging from a new 3DS demo to a Virtual Console game on both 3DS and Wii, hitting the various platforms this thursday.
On the Nintendo eShop, we begin our journey with a spanking new demo for Crush 3D! Crush 3D comprises over 50 levels of flabbergasting, fun-filled puzzles set over four stunning settings. Your job is to guide Danny safely to the exit of each level by crushing the perspective, along the way collecting up enough of his 'lost marbles' to open the exit gateway itself. Play the first few levels for free and decide if you want to jump further into Danny's crazy world.
Next to this slice of puzzle goodness, we have the Game Boy classic Kirby's Block Ball coming our way this week. This Breakout-like game requires quick reactions, as Kirby bounces off paddles on all four sides of the screen. Kirby is able to access a whole range of powers, including Burn, Spike, or Stone. You'll need all the help you can get for the final showdown with King Dedede. You can download this gem for €3/£2.70.
Then we step over to the DSiWare side of things, where we see two new games that are ready to go. First off, there is Gaia's Moon from EnjoyUp Games. This quirky arcade game puts you in the role of Atreyu, where you need to help him avoid objects and reach the end of the goal in each of the six difficult stages. Next to this, there is a two-player option where you use just one Nintendo DSi or 3DS to play. Gaia's Moon can be downloaded for 200 Nintendo DSi Points on the DSi Shop or for €2/£1.80 on the Nintendo eShop.
The second DSiWare game is Crazy Cheebo: Puzzle Party from Cypronia. In this strategic puzzler, you must switch two objects to make a horizontal or vertical set of three or more objects of the same colour. A whole range of awards are up for grabs if you can match more objects up and create combos. The game contains colourful graphics, a Crazy Cheebo character, and lots of humorous videos. The game can be yours for 200 Nintendo DSi Points on the DSi Shop or for €2/£1.80 on the Nintendo eShop.
Finally we hope over to the Wii, where we have a new WiiWare and Virtual Console game to boot. On WiiWare side, there is BurgerTime World Tour from the folks over at MonkeyPaw Games. Enjoy over 20 burger-filled levels, each containing new obstacles that will keep you on your toes. The new 3D environments bring a whole new edge to this classic game, with the rotational axis allowing you to see through the cylinder, creating whole new elements for determining the fastest way to build a burger. Download this revamped version of the Data East classic this Thursday for 1,000 Wii Points.
We finish our download parade with the Wii's Virtual Console, where The King of Fighters '97 finds its way into the NeoGeo section of the service. King of Fighters '97 is the fourth game in the King of Fighters series, once again allowing players to combat opponents with popular characters from Fatal Fury, Ikari Warriors, Psycho Soldier, Art of Fighting, and other titles. The character roster changes with every iteration and new characters in this 1997 title include Chizuru Kagura, Ryuji Yamazaki, Blue Mary and Billy Kane. Players can also choose between Advanced and Extra play modes to greatly alter the gameplay. Join the fight for 900 Wii Points!