Nintendo has applied for rights to a previously-unannounced StreetPass feature... and it might just be in reference to Kid Icarus: Uprising.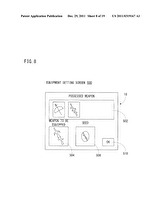 A patent application that credits Masahiro Sakarai as inventor details a feature for an unspecified shooting game involving transmission between two systems (StreetPass) and a process for fusing pairs of in-game weapons together.
The application was published on December 29, 2011 and filed by Nintendo last June 9. Specifically, the patent mentions that each piece of data (referred to as a "seed") in the exchange represents a weapon, and when two systems meet, an option appears where the two weapons can be fused to generate a new weapon. The fusion costs coins (or hearts in the case of Kid Icarus). The patent also describes how game progress (e.g. experience level) carries influence on weapon availability for the sake of retaining game balance. Additionally, weapons set to transmit cannot be equipped by your character. The application cites examples of guns with different firing ranges and powers and a "magic stick." The gun and stick can fuse to create "a weapon capable of firing and using magic." Specific weapon stats are determined randomly from a pre-specified range, and include attack power, elemental ability, stamina, shooting range. Fusion is not limited to StreetPassed weapons, but can include two weapons found in treasure chests in single-player play.
Although no specific game was named, all evidence points towards Kid Icarus: Uprising, which Sakurai directed. Most notably, a patent application published one week before detailed the recently announced sliding difficulty feature in Uprising, with all four of the inventors (including Sakurai as the primary one) listed in the newer patent appearing in the older one. The weapon fusing patent also references the difficulty feature and other aspects of Kid Icarus: Uprising. Three other applications describe various parts of the camera and shooting system employed by the game. Rather than a 3DS, the patent applications show a Nintendo DSi as the example system, indicating that such features have been in planning for some time (the equivalent Japanese patent was filed for on June 11, 2010).
Kid Icarus: Uprising features an extensive weapon system, and if this patent application is in reference to the game, more information may become available closer to its March 23 release date.