The hopeful March release will see release in April.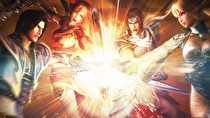 Dynasty Warriors VS. has been delayed in Japan, Famitsu recently confirmed.
Originally, the game was going to be released on March 15. Its new date will be April 26. The reason as to why Tecmo Koei has delayed the title remains unknown. Dynasty Warriors VS. was one of the first games to sport the Nintendo Network, which has since been confirmed as part of Nintendo's initiatives towards an improved online infrastructure.
No release date for North America or Europe has been given.