The film will be localized with official names according to region.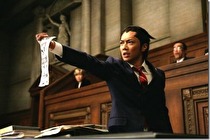 The Ace Attorney movie will be released in other regions besides Japan, director Miike Takahashi confirmed in a Q&A session at the film's premiere in the International Film Festival Rotterdam in the Netherlands.
The director explained that each region will be dubbed and subbed accordingly, meaning that the characters' official names in that region will be used. For example, in North America, "Ryuuichi Naruhodou" is known as "Phoenix Wright".
The film will be released in Japan on February 11. It follows the events seen in the first game of the series and features major characters from the series such as Miles Edgeworth and Maya Fey.