Unfortunately, the game might be region locked.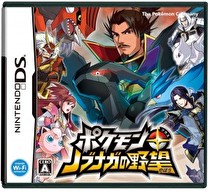 The crossover game Pokémon + Nobunaga's Ambition will have DSi-enhanced features.
Pidgi.net recently discovered the product code of the title, which confirms that the final release of the game will feature DSi enhancement. The product code is TSA-TWL-VPYJ-JPN. Each set of letters represents a specific feature in the game (for instance, JPN indicates the Japanese release). Specifically, TWL confirms that the game will use DSi features, though they could simply be limited to smoother gameplay with the handheld's faster processor.
It also indicates that the game might be region locked, meaning that players wishing to import the game must own a Japanese DSi or 3DS system to play it. However, Pokémon Black and White featured the TWL code, but remained region-free.