The highly successful toy-driven game is flying off the shelves.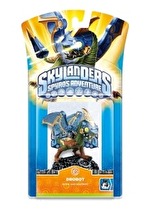 Activision is having problems keeping Skylanders in stock, but are doing their best to keep up with demand, Activision VP of Marketing John Coyne told Kotaku.
Skylanders has become a massive holiday hit for Activision, with demand for starter kits and more figures going up since its release last fall. The Kotaku article mentions that several stores, which include GameStop, Walmart, and Target, have quickly run out of the game and toys as soon as they receive them and put them on shelves.
Activision, however, has made notice of this, and promise that they are working on keeping up with the demand. "We are doing our best to keep up with the consumer demand for Skylanders and to keep product on the shelves. Skylanders was one of the most popular gifts this holiday season and demand for toys has continued to rise week after week without any signs of slowing down. We're shipping Skylanders toys out as soon as they come off the production lines and will get them to stores as quickly as we can," Coyne said.
The official Skylanders product availability Facebook page, however, confirms that figures that were on limited release will be re-released in greater quantities later in the year. Later in the spring, the final set of characters will make their release.