Slay zombies with the power of music!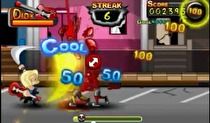 UFO Interactive's upcoming eShop game is Zombie Slayer Diox, a rhythm-based, sidescroller game in which players take on the role of a samurai guitarist from the future as he kills hordes of the undead with his music.
The game will be developed and published by UFO Interactive and is set to be released in early 2012. Its eShop price hasn't been revealed.