The cooking simulator will see a slight delay.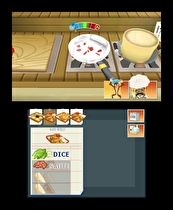 SVS Games's Order Up!! for the 3DS has been delayed until March of 2012.
Through a comment on the game's official page, they confirmed that both the 3DS and PlayStation 3 versions of the game were going to see a delay. Originally, they were meant to be released in January.
The Order Up!! series first began on the Wii. In the game, you play as a chef as he struggles to start his own chain of restaurants. The gameplay elements include getting orders correct, cooking and managing your business.