Sakurai confirms that the 3DS title will be ready to land later this March.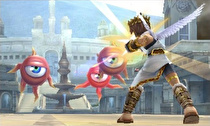 Production on Kid Icarus: Uprising is complete, Sora head Masahiro Sakurai confirmed.
As reported on the developer's Twitter account today, the title has gone gold, meaning the game is ready for mass production.
In the post, he also made sure to praise those who have worked on the project, and joked that he can finally rest on Saturday and Sunday.