The strangest Pokémon crossover game yet was almost even stranger.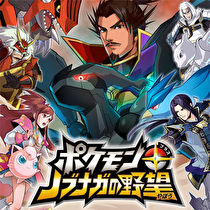 Pokémon was originally going to crossover with Dynasty Warriors, an interview on Weekly Famitsu revealed.
In the interview, president and CEO of The Pokemon Company Tsunekazu Ishihara and Tecmo Koei producer (and creator of the Nobunaga's Ambition series) Yoichi Erikawa explained that the game was originally conceived to be a crossover with the Dynasty Warriors franchise. Tecmo Koei first approached The Pokémon Company with this idea. Tecmo Koei has made Dynasty Warriors collaborations before, including the now serialized Dynasty Warriors: Gundam.
They explained that despite Nobunaga's Ambition being a war title they made it so that the characters won't hold any weapons throughout the campaign. The interview also clarified that the game, despite being a collaboration between the two companies, is being developed by Tecmo Koei.