Japanese players in need of some last minute supplies can also pick up a new quest for their game.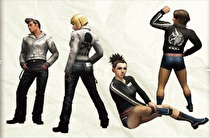 Japanese Monster Hunter 3 fans will be able to download a new quest at 7-11 convenience stores.
The new five star quest, which can be downloaded between January 17 and January 30, takes players underwater where they can fight Royal Ludroth, Lagiacrus, and Gobul one after the other. When the quest is successfully completed, players unlock new items. Although Capcom didn't specify which items would be unlocked, they did share an image of Monster Hunter characters in modern day clothing.