Gotta catch 'em all...at the arcade!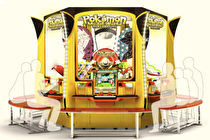 A new Pokémon arcade game has been released by Namco Bandai. The game, titled Pokémon Medal World, is a simple medal game (games which trade real money for medals used to "gamble" for prizes), aimed at players of all ages.
The game allows up to four players on one machine thanks to the large benches around the unit, and features original video to accompany the gameplay.
In the past, Nintendo has teamed up with Namco to work on some Nintendo themed arcade games, including the Mario Kart Arcade GP series. Other Nintendo franchises, like New Super Mario Bros., have also received their own arcade games.