The homebrew editor allows import and export of QR codes.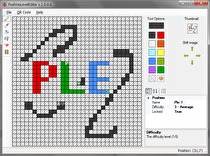 A Pushmo level editor for Windows was released by 3DS hacker Eli Sherer earlier this week.
With the Pushmo Level Editor, PC users can create Pushmo levels without using a 3DS. The editor supports import and export of QR codes in several different formats, including images, and the program supports all level features found in the 3DS game.
The program is available in English and Hebrew. The editor is still under development, and future versions will add undo support and more translations. Pushmo Level Editor is open source and licensed under GPLv3.
Known as Pullblox in Europe and Hiku Osu in Japan, Pushmo is an acclaimed 3DS downloadable puzzle game developed by Intelligent Systems.