Adventure includes tracks added in the 3DS version.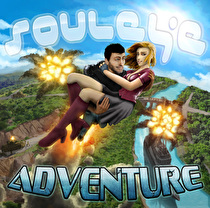 Magnus Pålsson released a new album today titled Adventure, featuring numerous tracks from retro puzzle-platformer VVVVVV.
Pålsson, who goes by the moniker Souleye, composed the driving chiptune soundtrack to VVVVVV. As was the case with his previous VVVVVV albums, Adventure is available for $10 in digital and CD format, and most of the tracks can be freely streamed from Bandcamp.
Adventure includes "Piercing The Sky" and "Pacing Energy," tracks that were added in VVVVVV 2.0, but didn't make it into the original soundtrack album, PPPPPP. It also includes a remix of a track titled "Predestined Fate" that was added in the 3DS version, as well as several other VVVVVV remixes that appear in the indie rhythm game Pulsen. The album also includes remixes of Zelda II and Super Meat Boy tracks.