The very first Zelda game can now be bought on the eShop for 500 yen.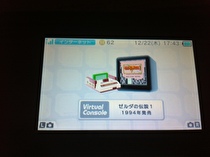 The Legend of Zelda for the NES is available for purchase on the eShop in Japan.
The game, which has been available for free for those who participated in the 3DS Ambassadors program, is priced at 500 yen (around $6.40 in American currency), and it is the first non-handheld Virtual Console game to make an appearance on the system. This version of the game is the cartridge version as stated by the official page.
Instead of the normal game icon on the 3DS menu screen, the icon for Zelda is that of a Famicom connected to a TV set, which is displaying the game. A picture of it is found below.
The game celebrates its 25th anniversary this year, and has seen release on other Nintendo systems such as the GameCube, the Game Boy Advance and through the Wii Virtual Console.
Special thanks to Matt Walker for the tip and Danny Bivens for the picture!