Capcom is ready for the feeding frenzy.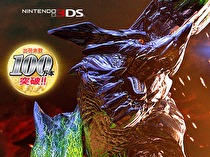 Capcom has shipped one million copies of Monster Hunter 3 (tri) G for the Nintendo 3DS in Japan. According to Media Create, Monster Hunter 3 (tri) G sold 521,959 units in its first two days on the market. In the same week (December 5 to December 11), 350,321 Nintendo 3DS units were sold.
Capcom, who made the announcement today, released the game on December 10 in Japan.