Plus the full title for the upcoming Jett Rocket game!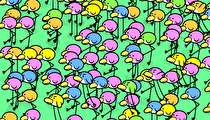 Not to be outdone by Europe, Nintendo of America announced the dates for their upcoming software in the first quarter of 2012. Among the casualties are Kid Icarus Uprising, Mario Party 9, PokePark 2: Wonders Beyond and Rhythm Heaven Fever.
There aren't many suprises found on this list, although two things on the Nintendo eShop list deserve a mention. First off, there is Kirby's Block Ball, a Game Boy classic that we will possibly see pop up on the 3DS Virtual Console in the months to come. Next to this, we found a listing for Jett Rocket Super Surf, which could be the new Jett Rocket title mentioned by developer Shin'en earlier in the year.
For all the upcoming titles, retail and download, check out the list below.
Nintendo 3DS

2K Play
Nicktoons MLB 3D - March

Capcom
Resident Evil® Revelations - Feb. 7

Konami Digital Entertainment, Inc.
METAL GEAR SOLID® 3D Snake Eater - Q1
Pro Evolution Soccer 2012 - January

NAMCO BANDAI Games America Inc.
TEKKEN 3D Prime Edition™ - February
Tales of the Abyss® - Feb. 14

Nintendo
Kid Icarus: Uprising - March 23

Published by SEGA® of America
Mario & Sonic at the London 2012 Olympic Games™ - Feb. 14

SEGA® of America
CRUSH™3D - Q1

Ubisoft
NCIS The Video Game (Based on the TV Series) - March 6
Horses 3D - March 6
Funky Barn - Q1
Rayman® Origins - Q1

Nintendo eShop

Collecting Smiles
Colors! 3D - Q1

Nicalis
VVVVVV - Q1
NightSky - Q1

Nintendo
Sakura Samurai: Art of the Sword - Q1
Dillon's Rolling Western - Q1
Kirby's Block Ball™ - Q1

Renegade Kid
Mutant Mudds - Q1

Shin'en Multimedia
Fun! Fun! Minigolf TOUCH - Q1
Jett Rocket Super Surf - Q1

WayForward
Mighty Switch Force - Q1

Zen Studios
Zen Pinball - Q1

Wii

2K Sports
MLB 2K12 - March 6

GameMill Entertainment
Country Dance™ Special Edition - Feb. 1

Konami Digital Entertainment, Inc.
Karaoke Joysound - Q1

Nintendo
Rhythm Heaven Fever - Feb. 13
PokéPark 2: Wonders Beyond - Feb. 27
Mario Party 9 - March 11

WiiWare™

Nicalis
La Mulana - Q1

Nintendo DS™ Family

2K Sports
MLB 2K12 - March 6

ATLUS
Shin Megami Tensei®: Devil Survivor™ 2 - February

GameMill Entertainment
Silverlicious™ - March 20
Xia Xia™ - March 20
Gogo's Crazy Bones™ - March 20

Mentor Interactive
Chess for Kids - Feb. 14
NARABA: The Labyrinth of Light - Feb. 21
NARABA: The Mysterious Palace - Feb. 21

Nintendo DSiWare™

Cosmigo
Box Pusher - Q1

Cypronia
Cake Ninja - Q1