This and many more 3DS titles are on the way!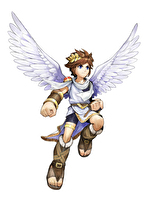 Kid Icarus: Uprsing is coming in March 2012 to Europe according to Nintendo of Europe's Nintendo 3DS release schedule. Alongside this announcement comes the listing of Layton 5, which has been hinted at before although no official comments were ever made.
On the downloadable side of things, Nintendo made a mention of SpeedThru: Potzol's Puzzle and Dillon's Rolling Western. SpeedThru is the sequel to ThruSpace, which was announced during Japan's Nintendo Direct conference earlier in the year. This downloadable title is planned for a release in February.
For the full list of upcoming Nintendo 3DS titles, retail and downloadable, check out the list below.
Resident Evil™ Revelations (Capcom) - 27th January 2012
Nintendo 3DS Circle Pad Pro - 27th January 2012
CRUSH™ 3D (SEGA) - January 2012
3D Game Collection (Mastertronic) - January 2012
VVVVVV (Nicalis) - January 2012
Mario & Sonic at the London 2012 Olympic Games™ (SEGA) - February 2012
One Piece Unlimited Cruise Special (NAMCO BANDAI Games S.A.S.) - 10th February 2012
SpeedThru: Potzol's Puzzle (Nintendo) - February 2012
Kid Icarus™: Uprising (Nintendo) - March 2012
Landwirtschafts-Simulator 2012 (astragon Software GmbH) - 31st March 2012 (Germany, Austria, Switzerland)
Metal Gear Solid®: Snake Eater 3D (KONAMI) - Winter
PAC-MAN™ Party 3D (NAMCO BANDAI Games S.A.S.) - Q1 2012
BEN 10™ Galactic Racing (NAMCO BANDAI Games S.A.S.) - Q1 2012
TEKKEN™ 3D Prime Edition (NAMCO BANDAI Games S.A.S.) - Q1 2012
Crash Time 4 (PQube) - Q1 2012
3D Classics: Kid Icarus™ (Nintendo) - Q1 2012
Colors! 3D (Collecting Smiles) - Q1 2012
Dillon's Rolling Western™ (Nintendo) - Q1 2012
Fun! Fun! Minigolf TOUCH! (Shin'en Multimedia) - Q1 2012
Mutant Mudds™ (Renegade Kid) - Q1 2012
Rhythm Thief & the Emperor's Treasure™ (SEGA) - Early 2012
Mario Tennis™* (Nintendo) - 2012
Luigi's Mansion™ 2 (Nintendo) - 2012
Professor Layton 5 (Nintendo) - 2012