Also, a brand new name for Rhythm Paradise Wii!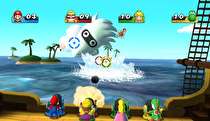 PokéPark 2 and Mario Party 9 are on their way to Europe this March according to a recent press release from Nintendo of Europe. The release schedule also listed four other Wii titles including Boom Street, The Last Story, Pandora's Tower, and Rhythm Paradise Wii to be released in the first half of 2012.
According to Nintendo, Pandora's Tower is planned to release in the second quarter of 2012, while Rhythm Paradise Wii, now known as Beat to Beat: Rhythm Paradise, is set for a general 2012 release with no specific date given.