Side-scrolling action title set to release before the end of the year.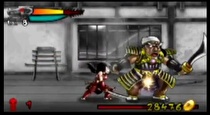 Samurai Sword Destiny, an action side-scroller from UFO Interactive Games, is coming to the 3DS eShop before the end of this year.
In the game, you control a female samurai on a quest to bring her missing older brother home. Along the way she can pick up dozens of upgrades to enhance her fighting abilities and help her take down the forces that stand in her path.
Check out more of this game on the developer's YouTube page.