A ton of characters and loads of collectible content are available in the newest Tekken title.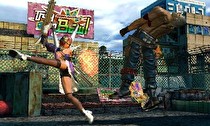 A recent Japanese retail listing for Tekken 3D Prime Edition revealed new information regarding the number of characters and some additional content in the game.
According to the listing, the game will feature over 40 different playable characters. The game features some touch screen buttons that can be customized to control your character. 700 collectible Tekken cards have also been included in this title. These cards, view-able in 3D, are obtained through beating the CPU or using Streetpass. The cards display scenes from throughout the entire series.
Tekken 3D Prime Edition promises to run at 60 frames per second, even while the 3D mode is turned on. Also included on the cart is a 3D version of the animated movie Tekken: Blood Vengeance.