Roller Derbies, Bugs and classic Kirby action in this week's European downloads.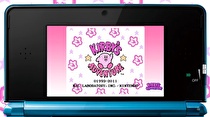 Although the release schedule is filled with new retail releases, we shouldn't forget the downloadable side of things. The selection of this week is certainly suprising and there is something for everyone. Let's hop right in!

WiiWare
Jam City Rollergirls
Publisher: Frozen Codebase
Cost: 500 Points
WiiWare's Roller Derby game Jam City Rollergirls is now available in Europe. While the sport isn't popular at this part of the ocean, the game itself is certainly a look. On top of that, we Europeans just need pay 500 Points (1000 Points in NA) to get a taste of the thrills. Read Andy Goergen's in-depth review to see if this is something you are interested in.
DSiWare
Bugs'N'Balls
Publisher: EnjoyUp
Cost: €2/£1.80 Nintendo eShop, 200 Points DSi Shop
From EnjoyUp Games is Bugs'N'Balls, a game in which players must volley balls back and forth without getting hit by the opponent's ball. Players have four characters to choose from as well as various mini-games. Carmine Red reviewed this game and said it offered ''a unique pick-up-and-play sport and a vibrant, winning presentation.''

Nintendo eShop
3D Classics: Kirby's Adventure
Publisher: Nintendo
Cost: €6/€5.40
Software Impressions
3D Classics: Kirby's Adventure is a 3D make-over of the classic NES platformer. In this game, you help Kirby collect pieces of the Star Rod so that the people of Dream Land can dream once more. As per usual with Kirby games, you can swallow your opponents and use their abilities to overcome obstacles and challenges along the way.
The deciding factor on whether or not this is a purchase or not will likely be the controls and visuals, as those are the elements that are changed in comparison to the original and the Wii Virtual Console version. The controls are sublime with an option to play it with either the Circle Pad and D-Pad. Both work very well and it is only matter of preference which one of the two you will go with. The button configuration can even be changed to your liking in the options menu.
The 3D visuals are impressive, though you need to crank it up to full 3D to experience it. Backgrounds will have then a real sense of depth, while Kirby on the front walks and jumps to various platforms that will slightly pop out at you. Another nice touch is that after completing at stage, it will directly auto-save to one of three different save slots. For newcomers and Kirby fans alike, this 3D Classic is truly worth a look.