The book, dubbed Monster Hunter 3G - Hunter Note, is a veritable Monster Hunter encyclopedia.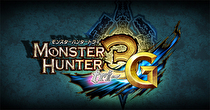 Monster Hunter 3G is hitting Japanese shelves on December 10, but before it does, players can pick up the book Monster Hunter 3G - Hunter Note on December 6.
Capcom is publishing the book, scheduled for release only four days before the launch of Nintendo 3DS game. The book will feature information on world, characters, monsters, and weapons on the Monster Hunter universe, and is 128 pages in length, priced at 980 yen.