2011 might have been a bust, but Nintendo's Satoru Iwata has hopes for a bright future.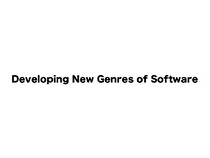 Nintendo's looking to make new genres of video games next year, Nintendo President Satoru Iwata proclaimed after apologizing to investors at today's Financial Results Briefing for missing the financial forecast for the first half of the fiscal year.
The goal of these new genres, according to Iwata, is to attract people who are not interested in video games. "[We] will aim to develop and launch products that can provide meaningful surprises to the public," he said. He believes they have an advantage because of their ability to integrate hardware and software ideas, and their previous success in a wide variety of demographics.
Nintendo wants to make sure the 3DS has its fair share of long-tail, evergreen games, much likes it predeccesor. The DS had Nintendogs, New Super Mario Bros., and Mario Kart DS sell millions of units over a long period of time. Nintendo hopes Nintendogs + Cats, Super Mario 3D Land, and Mario Kart 7 can function in the same manner.
While Nintendogs + Cats was released in the first half of the year, other big releases were delayed, causing sales to slip. Additionally, the company couldn't make last year's hits sell well enough into 2011.
Iwata also discussed how he wants to leverage social media more, citing last week's Nintendo Direct as a good first step. He wants to separate the investor briefings from the consumer-focused announcements.