StreetPass map, new puzzle panels, and the sequel to Find Mii!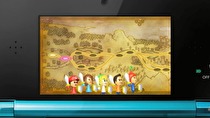 On the first streaming of the Nintendo Direct presentation, Sataru Iwata revealed that StreetPass Mii Plaza is going to be updated with new feaures and modes.

StreetPass Map
The areas (prefectures in the Japanese case) where StreetPassed Miis live are going to be recorded on a new map. The goal is to StreetPass Miis from all the areas.

Find Mii 2
The sequel to the mini RPG starring your Mii's. Players who have beaten Find Mii will automatically unlock the sequel - Find Mii 2! This time, you will access levels via an overworld with branching paths, with the intention of improving replayability. StreetPassed Miis can form a duo, and attack or use magic in combination with each other.

3DS Puzzle Swap
New panels are added, such as one from Donkey Kong Country Returns.
StreetPass Mii Plaza will be updated via SpotPass at the end of November.